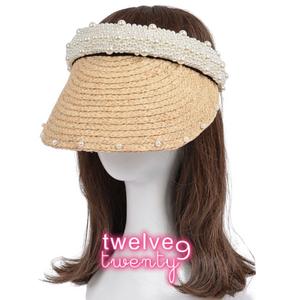 Shiny White Pearl Encrusted Headband Straw Visor
Dozens of round white shiny faux pearls are encrusted along the top of this stylish visor, giving it a sophisticated look that is ideal for your next vacation getaway. Pearl accents are set on the brim of the visor for an added touch. The straw is tightly woven together, helping keep the sun rays out no matter where you are. Shield your face and look super chic with this fashionable pearl straw visor that is right on-trend.
Mix and match this pearl visor with your favourite summer dress or swim attire. Take it with you to the beach or wear it in the city for a beach glam look that stands out.
Bon Voyage with a wearable touch of glamour!