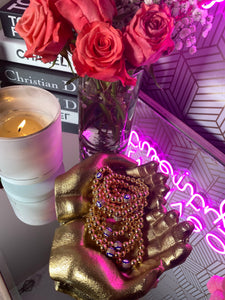 The evil eye is an ancient talisman revered through many cultures worldwide. Wear the evil eye as a source of good luck, prosperity, riches, and abundance with an appreciation for its mesmerizing design. Attract fortune and fantastic opportunities with the evil eye!
Repel negativity and jealousy with the evil eye, a powerful token that protects the wearer from misfortune, anger, and other low vibrational energies.
This slender bracelet features evil eye bead charms set in even intervals station style. Shiny bead-ball links give this unique stacking bracelet added texture and pleasing geometry. Enjoy this very special bracelet with other bracelets, your favourite watch, or wear it solo.
Stacking

Available in different colours
Lightweight and easy to slip on and off the wrist